Alan Mikhail is an Assistant Professor in the Department of History at Yale University.  He is a historian of the early modern Muslim world, the Ottoman Empire, and Egypt whose research and teaching focus mostly on the nature of early modern imperial rule, peasant histories, environmental resource management, and science and medicine.
Professor Mikhail received his Ph.D. in 2008 from the University of California, Berkeley, where his dissertation won the Malcolm H. Kerr Award from the Middle East Studies Association and the James H. Kettner Award from the University of California, Berkeley.  From 2008 to 2010, he was a member of the Andrew W. Mellon Fellowship of Scholars in the Humanities at Stanford University.
His first book, Nature and Empire in Ottoman Egypt: An Environmental History (Cambridge University Press, Studies in Environment and History, 2011), examines Ottoman history through the lens of water usage and environmental resource management in the empire's most lucrative province of Egypt.  He is currently also editing a collection of essays on the environmental history of the early modern and modern Middle East (under contract with Oxford University Press).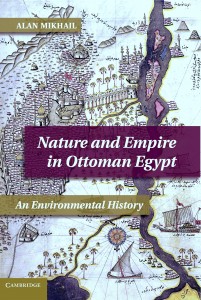 His articles have appeared in the International Journal of Middle East Studies, the Journal of the Economic and Social History of the Orient, the Bulletin of the History of Medicine, and in other journals and edited collections.
Professor Mikhail is currently beginning a new book-length project on the history of human-animal relations in Ottoman Egypt and also several smaller projects on various environmental topics in the early modern Middle East, Ottoman bureaucratic practice, and the history of coffee in the Ottoman Empire.
His research has been supported by the Council of American Overseas Research Centers, the Andrew W. Mellon Foundation, the Fulbright-Hays Commission, the American Research Center in Egypt, and the Institute of Turkish Studies.
For more on his research and teaching interests, please see his CV.